New Heights for BTC, Crypto Adoption on the Rise Worldwide, Robinhood Offers New Crypto Features While Coinbase Goes Public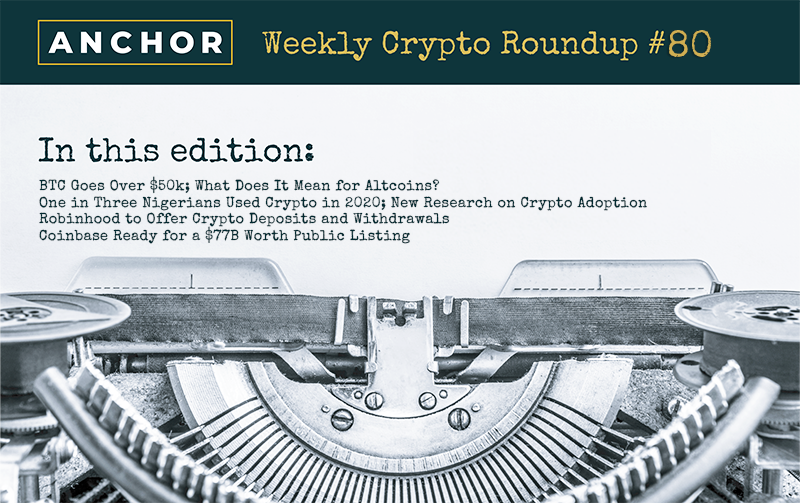 In this edition:

BTC Goes Over $50k; What Does It Mean for Altcoins?
One in Three Nigerians Used Crypto in 2020; New Research on Crypto Adoption
Robinhood to Offer Crypto Deposits and Withdrawals
Coinbase Ready for a $77B Worth Public Listing
We meet for the 80th time, my fellow Anchorians! Welcome to this February's jubilee edition of our Weekly Crypto Roundup. How was your week?

There are just a few places as dynamic as the world of crypto, let me tell you. Of course, BTC is once more in the spotlight since its price went over $50,000 (making it a true rock star at the moment), and some altcoins are riding the wave, too. We learned more about crypto adoption in Africa & Asia, and Robinhood's pro-crypto efforts. Last but not least – Coinbase is getting ready for public listing with $77 billion estimated worth.

I hope there is something in this week's Roundup that is exactly your cup of tea, and that you'll enjoy another ride through the most important events in the industry of crypto. So, without further ado, let's jump right in!
BTC Goes Over $50k; What Does It Mean for Altcoins?
Bitcoin struggled to surpass many psychological barriers in terms of its price in the past. Not anymore! Just when you think about the next resistance line, BTC continues to surge right through it. And on Thursday, the famous $50k barrier was left to bite the dust.

At the moment of writing, BTC price equals $51,750 (CMC). Not only did the price reach a new all-time high, but it also seems as if $50k was now a stable support line.

ETH is doing quite well, too. ''The most famous altcoin's'' price is $1,900 at the moment, waiting to finally go over $2k and reach a new record. There has also been a significant increase in trading volume (around 8%) in the last 24h.

It's been a kind week for Cardano's ADA as well. This cryptocurrency has lately had an increase of over 10% in market capitalization. Its current price equals $0.94, and might soon go over a dollar, which could be a significant additional boost.

Another currency worth mentioning is Binance Coin (BNB = $187), with a notable growth both in volume and market cap.

On the losing 'red' side, we have DOGE (currently $0.05104), which's had a decline in the last 24h, as well with the last 7 days.

So, BTC is genuinely being the rockstar of 2021 (though all this started in December). Hear, hear! While we steadily move towards the mass adoption of crypto, bitcoin continues to prove what a unique asset it is. And now with Mr. Musk in its corner, only the sky's the limit. Well, not even the sky since they might make a trip to Mars at some point.

Jokes aside, collective efforts of the crypto industry, countries' new crypto legislative policies, and the private sector's desire to include crypto have indeed paid off. BTC is not stopping, not now.
One in Three Nigerians Used Crypto in 2020; New Research on Crypto Adoption
You will find more infographics at
Statista
New research by Statista shows that, when it comes to the usage of cryptocurrencies per capita, Nigeria is by far no. 1 country. Every third Nigerian used or held crypto assets in 2020!

''The high cost of sending money across borders the conventional way has caused many to turn to local cryptocurrency exchanges catering to overseas workers and their families, according to Bitcoin.com. Nigerians also often use their phones to send money to each other or to pay in shops. Recently, businesses in the country have been adding crypto plugins to their phone payment options, adding another way in which Nigerians can use cryptocurrency in their everyday lives,'' it was said in the report.

The second place goes to Vietnam, a country in Southeast Asia, and the third to the Philippines. Remittances are the main reason here, too. The central bank of the Philippines even allowed some crypto exchanges to operate as "remittance and transfer companies".

Besides Africa and Southeast Asia, the region thriving in crypto adoption is Latin America, with Peru in the first place (16% of adopters), followed by Brazil, Colombia, Argentina, Mexico, and Chile.

Pioneers in Europe are Turkey, Switzerland, and Germany. In the top 10, we naturally have China and the US, with Japan in the last place.

It's always great to see crypto adoption growing all over the world. It comes as no surprise that the countries with struggling banking systems choose crypto as a means of settlement. Cryptocurrencies are, after all, available for anyone with an internet connection.
Robinhood to Offer Crypto Deposits and Withdrawals

Apparently, Robinhood wants to make things right and regain some credibility. The company tweeted on Wednesday:

''As a major crypto platform, our actions need to be systematic, objective, and derived from first principles. We're working on the ability to deposit and withdraw all cryptos. We'll keep you updated as we progress.''

Robinhood users were able to buy and sell crypto via the platform before, but the work on the integration of cryptocurrency transfers has now officially begun. There are now seven cryptocurrencies available on the platform (BTC, ETH, DOGE, LTC, ETC, BCH, and BSV).

''We're also building deposits and withdrawals for ALL listed cryptocurrencies,'' the company shared.

The community is not amused and still wary due to Robinhood's recent controversial actions. Many have expressed their concerns and distrust, especially since the company didn't give an ETA on the updates. Crypto enthusiasts are losing hope in centralized service providers, and retaining customers is not an easy task nowadays.

I guess we'll see if this is just a publicity stunt or a real upgrade.

''Why use all these words and terminology. Answer the basic question. We want our own wallets and crypto keys. Can Robinhood do that? Simple yes or no would suffice,'' was one of the questions.

Coinbase Ready for a $77B Worth Public Listing

$303 per share means $77 billion in total for Coinbase, a crypto exchange getting ready for a public listing in the next few months.

Coinbase, the biggest cryptocurrency exchange in the US, is currently trading shares on the Nasdaq Private Market at $303 apiece. Anonymous sources for Coindesk claim: "The third weekly transaction closed on Friday and the clearing price was $303 a share. The first week it was 200 bucks a share, the second week it was $301 a share, and the third week it was $303 a share. So you can kind of see price discovery happening."

At the moment, 254 million shares are waiting to go public. Even though Coinbase declined to comment, it's normal to keep pieces of information like these for yourself.

"It's not like a handful of shares being exchanged at $300 a share. Each week it's tens of millions of dollars, a pretty sizable amount," added the source.

More information will, of course, be available when the S-1 form (from US Securities and Exchange Commission) becomes available for the public in the next few weeks.
Final Thoughts
Another thrilling Roundup comes to an end! No need to worry though, my fellow Anchorians, you know very well that we will be with you again next week, with other interesting stories.

So, BTC continues to make history, crypto adoption is on the rise all over the globe, Robinhood offers new features, and Coinbase is ready to go on a public listing. Quite an eventful week is behind us! What was the most interesting piece for you?

Anyhow, you know the drill – stay safe and take care, and I wish you fair winds and the following seas, my dearest fellow Anchorians. Until next week!

Disclaimer: The information provided in this post is not legal, accounting, or financial advice. I am not a lawyer, accountant, or financial advisor. I am not registered as an investment adviser with any federal or state regulatory agency. The Information should not be construed as investment or trading advice and is not meant to be a solicitation or recommendation to buy, sell, or hold any cryptocurrencies.